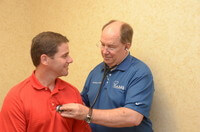 Dr. Michael Gaines
Dr. Gaines was born in Columbus, Georgia and raised in Smiths Station, Alabama. He attended Auburn University for his undergraduate studies and received a B. S. in Chemistry and M.S. in Pharmacology. He attended medical school at UAB and did his residency training in Family Practice under Dr. Canup. His early career was in Bowdon, Georgia. His past experience includes ER work, hospital work and a family practice clinic. He is Board Certified in Family Practice and a member of American Academy of Family Physicians, Alabama Academy of Family Physicians, Medical Association of State of Alabama and Calhoun Medical Society. He has two children, 2 stepchildren, and 4 grandchildren and is married to his lovely wife Laura. Turkey hunting is his favorite hobby.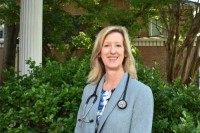 Dr. Margaret Davenport
Dr. Margaret Davenport, DO, FACOI is board certified in Internal Medicine and Critical Care by the American Osteopathic Board of Internal Medicine. She has been in private practice is Anniston since 1993. She received her Bachelor of Science degree from the University of Mississippi, and is a 1987 graduate of the Kirksville College of Osteopathic Medicine. She completed her internship and residency at Deaconess Hospital in St. Louis, Missouri, and her fellowship in Critical Care at St. Louis University. Dr. Davenport is currently serving as the Site Director for the Alabama College of Osteopathic Medicine. She is married to Dr. Blane Bateman, DO and they have one son, Richard. In her spare time she enjoys gardening and Pilates. She is active in her community and in her church.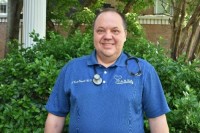 Dr. Kele Sewell
Dr. Kele Sewell grew up near Canton, Georgia and attended West Georgia College. From there he completed his doctorate in Pharmacy and later a Medical degree from Mercer University. Dr. Sewell is residency trained and board certified in Family Medicine. He has published several novels, magazine articles, and has written screen plays. He and his family enjoy camping.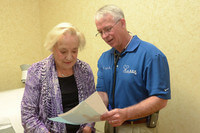 Dr. Rodney Snead
Dr. Snead, a Blount County native, attended Birmingham Southern College, University of South Alabama College of Medicine, and completed a residency in Family Medicine, in Tuscaloosa. He became board certified in Family Practice and Emergency Medicine, and practiced Emergency Medicine in Anniston for over 20 years, prior to helping to found C.A.R.E.S. He has served as President of the Alabama College of Emergency Physicians, and served on numerous state trauma and worker's compensation committees. C.A.R.E.S. has become a passion and source of great pride for him. He is involved in his local church, enjoys cycling, hiking, and being with his wife Trixie, three children and their families.